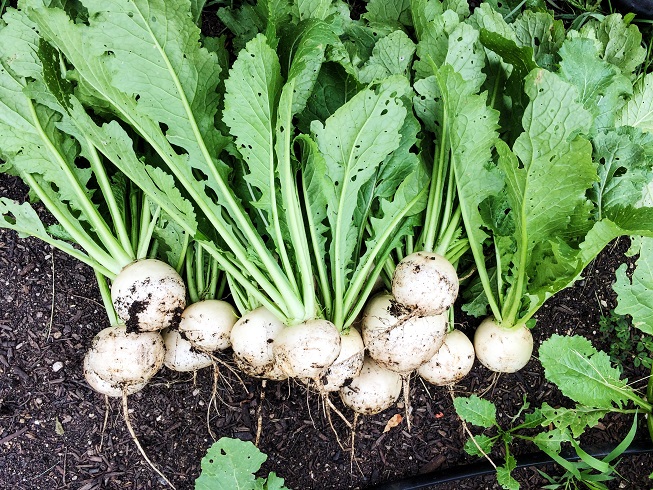 A small farm tucked into the hills of McHenry County, we grow beautiful vegetables in harmony with our diverse environment. Our food is grown without the use of chemicals, relying on healthy soils to produce flavorful, nutrient dense vegetables. For more about how we farm, click here.
Farm Shares
(Community Supported Agriculture)
Enjoy a share of the harvest. Support a farmer in your community. During the growing season members of Mike & Clare's Farm Share get a bag of super fresh seasonal vegetables picked just for you, a newsletter with recipe ideas and farm updates, and an invitation to on-farm events. Farm Shares are a great way to support a local farmer in your community while enjoying high quality, chemical-free vegetables.
The 2022 Season: A Sampling Share
Join us for a (very) small Sampling Share in 2022! Members will receive a weekly bag of 4- 5 seasonal vegetables that can be used for salads, snacking and even a meal or two. While the Sampling Share bag won't cover all of your vegetables needs for the week, it will bring some very fresh, zero-chemical, beautiful produce into your home.
New in 2022! Farm Share Add-ons! Members of the Farm Share can add selected vegetables to their share each week for an additional charge. Add-ons can be used to make the (very) small Sampling Share a bit larger. Weekly Add-ons will include standards like kale/$3, chard/$3, scallions/$3, lettuce/$3 - and hot weather vegetables like tomatoes/$4 and cucumbers/$1. We hope that the add-ons will help us keep the share small for members who like the sampling size, while giving options to anyone who would like a larger share.
Visit the 2022 Crop List page to learn what we have planned for the new season.
Delivery/Pick Up Locations
Pick-up: On Farm, 20602 Streit Rd, Harvard IL
Delivery: Home/Office delivery available to addresses in McHenry County for a $70 surcharge
Dates
Wednesdays
June 8th - October 5th, 2:30 - 5:30pm
Keep in mind! Farm Share bags are picked up/delivered every week, rain, shine and holidays. Members who are unable to make a pick up or delivery can arrange to have a friend or family member pick it up or request that we donate the bag that week.
Cost
$230 for the full season
$70 for home/office delivery (McHenry County address only)
Please note: This is a Sampling Farm Share. Our share is inexpensive because it's a lot smaller than CSA boxes from other farms. If you'd like to feed your family of 4 all week with your Farm Share, this probably isn't the share for you. If you're looking to get a little sampling of fresh, local, organically grown vegetables once a week this summer, we're a great, inexpensive option.
Farmers Market
We'll be bringing gorgeous vegetables to the Glenwood Sunday Market in Rogers Park! Stop by and see us.